Kwame Onwuachi And Sheila Johnson's Salamander Hotels & Resorts Team Up With FOOD & WINE To Create The Family Reunion
NEW YORK and MIDDLEBURG, Va., Feb. 8, 2021 /PRNewswire/ — Meredith Corporation 's (NYSE: MDP) FOOD & WINE and Sheila Johnson's Salamander Hotels & Resorts announce the debut of The Family Reunion presented by Kwame Onwuachi, a multi-day event that will celebrate diversity in the hospitality community through cooking classes and demonstrations, wine tastings and […]
NEW YORK and MIDDLEBURG, Va., Feb. 8, 2021 /PRNewswire/ — Meredith Corporation 's (NYSE: MDP) FOOD & WINE and Sheila Johnson's Salamander Hotels & Resorts announce the debut of The Family Reunion presented by Kwame Onwuachi, a multi-day event that will celebrate diversity in the hospitality community through cooking classes and demonstrations, wine tastings and dinners, and thought-provoking panel discussions with world-class chefs, sommeliers and industry leaders including Carla Hall, Edouardo Jordan, Nina Compton, Carlton McCoy, Gregory Gourdet, Mashama Bailey, Rodney Scott, Tavel Bristol-Joseph, Pierre Thiam and more.
Co-hosted by chef and author Kwame Onwuachi and Salamander Hotels & Resorts Founder & CEO Sheila Johnson, The Family Reunion will take place August 19 – 22, 2021 at Johnson's Five-Star-rated Salamander Resort & Spa in Middleburg, Virginia, located in the heart of the state's wine country and just one hour from Washington, D.C.
Event tickets will go on sale in April at www.SalamanderHotels.com/FamilyReunion. Resort packages and individual ticket options will be available, while specific programming will also be unveiled at that time.*
Nurturing, developing and celebrating racial and ethnic diversity within the next generation of hospitality professionals is a core part of the mission of the event. In addition to experiences taking place throughout the 340-acre property's outdoor event spaces, Cooking Studio, Culinary Garden and restaurants, there will be a center stage venue hosting a rotating lineup of presentations and panel discussions. Throughout the weekend, speakers, chefs and sommeliers will delve closely into the Black cooking traditions that have shaped cuisine in America, share lessons from the past, and focus on building a better and more inclusive future.
A portion of the proceeds will be used to create a mentorship and scholarship program which fosters diversity in the hospitality industry, as well as to support efforts to help end childhood hunger.
The only African-American woman to wholly own a Forbes Five-Star resort, Sheila Johnson is renowned as the co-founder of Black Entertainment Television and is also a partner in Monumental Sports & Entertainment. As CEO and founder of Salamander Hotels & Resorts, which manages luxury properties in the US and the Caribbean, she has spoken frequently about the need for greater diversity within the hospitality industry.
"Our remarkable, constantly renewing and evolving industry is as diverse as any other," said Johnson. "But, we can, and should do more. Therefore, I'm immensely proud to partner with FOOD & WINE and Kwame Onwuachi and delighted Salamander Resort & Spa can provide a platform for thoughtful discussion about inclusion."
Leading up to the event, Onwuachi, who is also a 2019 FOOD & WINE Best New Chef and the author of the culinary memoir Notes from a Young Black Chef, will spend nine days in residency at the resort, where he will be cooking food based on his Afro-Caribbean heritage.
"We should be doing everything in our power to celebrate diversity in our industry," said Onwuachi. "For too long we have gone unnoticed and under-appreciated. This is our time."
The Family Reunion Presented by Kwame Onwuachi is part of the expanding FOOD & WINE Classic network of events that's anchored by the celebrated FOOD & WINE Classic in Aspen, a mainstay of the culinary world for over three decades, as well as the recently launched FOOD & WINE Classic at Home virtual events, among others. Created in collaboration with Salamander Hotels & Resorts, FOOD & WINE will bring its expertise in editorial event production to the creation of The Family Reunion and share stories about the event in print, on foodandwine.com and on F&W Pro, a business content vertical for the hospitality industry.
FOOD & WINE Editor in Chief Hunter Lewis said, "We're grateful to Kwame for bringing the idea of The Family Reunion to FOOD & WINE and thrilled to partner with him, Sheila, and the team at Salamander Hotels & Resorts to help produce the inaugural event in Virginia's beautiful wine country. The event's mission aligns with FOOD & WINE's commitment to empowering and uplifting more diverse voices in the culinary and food media industries."
The Family Reunion enjoys sponsorship support from Virginia Tourism Corporation, Lexus and the Brett Johnson Collection.
* The event will follow appropriate COVID-19 health and safety measures in conjunction with CDC and state guidelines.
About Salamander Hotels & Resorts
Salamander Hotels & Resorts delivers comfortable luxury through signature, immersive experiences that personally enrich the lives of its guests. The company is privately owned and operated, and based in Middleburg, VA, just outside Washington, D.C. Founded by entrepreneur Sheila Johnson in 2005, it has a luxury portfolio featuring the Forbes Five-Star Salamander Resort & Spa in Middleburg, a 340-acre equestrian-inspired property near Washington, D.C.; Half Moon, the iconic luxury resort in Montego Bay, Jamaica, which features the newly opened Eclipse; The Henderson, a 170-room grand beach resort in Destin, FL; Hotel Bennett, a spectacular 179-room hotel in Charleston, SC, overlooking the city's historic Marion Square; and Innisbrook Resort in Tampa Bay, which hosts the PGA TOUR's Valspar Championship each year on its Copperhead Course. All Salamander properties are members of Preferred Hotels & Resorts. For additional information visit www.SalamanderHotels.com.
About Salamander Resort & Spa
Salamander Resort & Spa is a Forbes Five-Star rated and LEED Green Building Certified resort situated on 340 picturesque acres in the historic village of Middleburg, Va. Located only one hour from Washington, D.C. and just 35 minutes from Washington Dulles International Airport, the resort is designed to respect the architectural traditions of Virginia's countryside with 168 spacious rooms and suites that blend into their natural environment. Resort Owner Sheila C. Johnson has created a luxurious destination featuring an award-winning 23,000-square-foot spa, Harrimans Virginia Piedmont Grill, the Gold Cup Wine Bar, a dedicated Cooking Studio, a chef-inspired Culinary Garden as well as the adventurous Tree Top Zip Tour. The resort includes a full-service Equestrian Center with unique programming, a 22-stall stable and riding arena. All spa, culinary and equestrian facilities and programs are open to the community. For more information, visit www.SalamanderResort.com
About FOOD & WINE
FOOD & WINE is the ultimate authority on the best of what's new in food, drink, travel, design and entertaining. FOOD & WINE has an extensive social media following on Facebook, Twitter, Instagram, Pinterest, and YouTube. FOOD & WINE includes a monthly magazine in print and digital; a website, foodandwine.com; a books division; plus newsletters, clubs, events, dinnerware, cookware and more. At FOOD & WINE, we inspire and empower our wine and food-obsessed community to eat, drink, entertain and travel better—every day and everywhere. FOOD & WINE is part of Meredith Corp.'s (NYSE: MDP: Meredith.com ) portfolio of best-in-class brands.
View original content to download multimedia: http://www.prnewswire.com/news-releases/kwame-onwuachi-and-sheila-johnsons-salamander-hotels–resorts-team-up-with-food–wine-to-create-the-family-reunion-301223983.html
SOURCE Meredith Corporation
Ido Fishman Discusses The Misconceptions About Michelin Star Restaurants
If you enjoy fine dining, then you probably have heard of the term Michelin start restaurants. If you find yourself relating this term to the tire company, you wouldn't be wrong! Does that sound strange? Well, here's a trivia fact for you; the tire company started rating restaurants for truck drivers on long routes to […]
If you enjoy fine dining, then you probably have heard of the term Michelin start restaurants. If you find yourself relating this term to the tire company, you wouldn't be wrong! Does that sound strange? Well, here's a trivia fact for you; the tire company started rating restaurants for truck drivers on long routes to help them find affordable yet delicious diners near various spots. This rating system evolved in the 1970s and focused solely on fine dining restaurants. This is how we get the Michelin star rating system that is reserved for only the best fine dining restaurants in the world. 
It is the dream of everyone who enjoys the adventures that fine dining brings to dine at a restaurant with a Michelin star. However, there are many misconceptions about fine dining that make people think that they are not worth the money. Chef Ido Fishman has listed the major misconceptions that people have about Michelin star restaurants and explains what your experience is likely to be like. 
Debunking Misconceptions About Michelin Star Restaurant
Portion Sizes Are Too Small
People mistake Michelin star restaurants with fine dining too often which is why this is a widely believed misconception. And even with fine dining experiences, the portions may seem too small but the heaviness of the ingredients that are used make for very filling meals. Speaking of Michelin star restaurants, you will come across all types of restaurants that have this star. So, don't worry about the portion sizes because Ido Fishman assures that you will not leave the restaurant feeling hungry.   
It's Always A Black Tie Event
A common misconception is that all Michelin star restaurants have a formal dress code. This idea stems from another commonly believed misconception that only fine dining restaurants have this star. It is true that a majority of the eateries that have been rewarded the Michelin star are expensive fine dining places that have formal dress codes, however, Ido Fishman explains that there are also plenty of restaurants that meet the Michelin criteria that allow all sorts of clothing inside.  So, you should always check out the setting of the Michelin star restaurant that you are planning to visit because it can be an embarrassing experience if you wear formal clothes to a place that was filled with people wearing jeans or sweatpants.  
Meals Are Very Expensive 
This misconception is the main reason why people don't even try to look up Michelin star restaurants because they don't think an eating experience should be that expensive. This idea is formed from the notion that to have a high-quality meal, you need to use high-quality ingredients which are costly. While it is true that a majority of the Michelin star restaurants are the expensive ones, but regular and affordable restaurants also have the label. You can find a small buffet in Hong Kong with a Michelin star even though it doesn't meet the "fancy" criteria that most people assume with such restaurants. 
Michelin Star Is Given To Chefs
A common yet wrong term that circulates on social media is "Michelin star awarded chefs". This term reflects the notion that it was the chef that was given the Michelin star. Ido Fishman states that this is not true. While it is true that the chefs play a huge role in the quality of the food that is served and it is the feature that most restaurant critics talk about, but the Michelin star is given to the restaurant. Every detail of the meal including the atmosphere and the quality of the food is taken into account when the Michelin star is given.  
Conclusion 
So, now that all the common misconceptions about Michelin star restaurants have been cleared, are you reconsidering your option of going to one? Ido Fishman states that eating in a Michelin star restaurant is an experience that everyone should experience at least once in their life. So, whether you run a food blog, or just enjoy eating different kinds of food, don't shy away from experiencing Michelin star restaurants because of some false assumptions.  
Five dishes that define India's diverse cuisine — and the chefs taking them global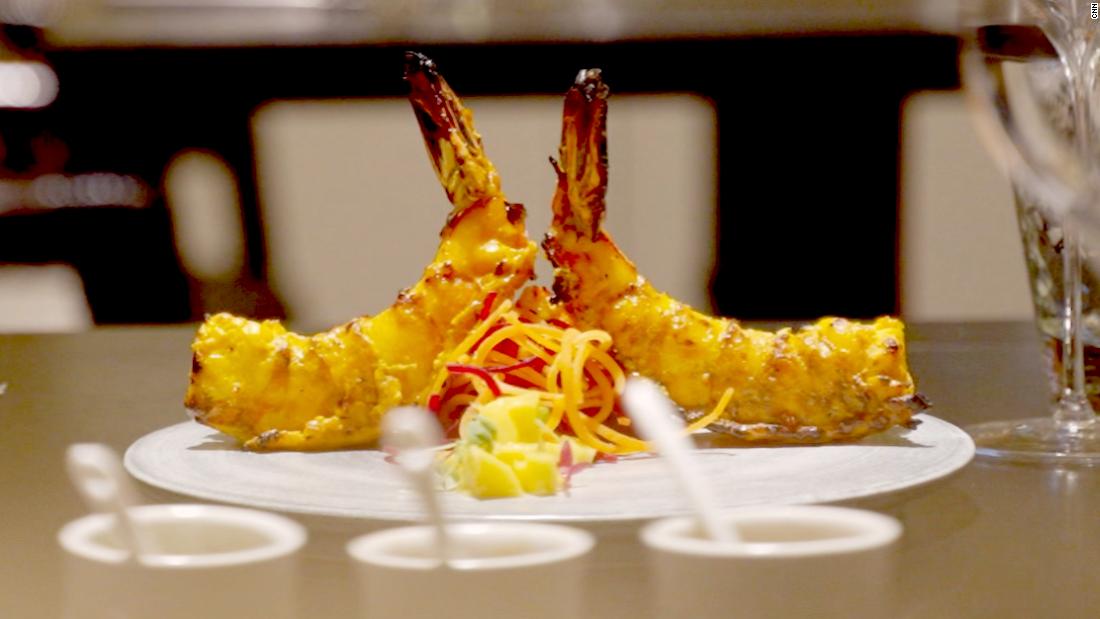 (CNN) — The term "Indian cuisine" covers a lot of ground. From the Himalayan peaks in the northern state of Uttarakhand, to the tropical southwestern coast of Kerala, each landscape comes with its own climate, history, trade links and religious customs. And each has a unique food culture.
While curry houses with standard menus are still popular, the world's taste for Indian fine dining is evolving to encompass lesser known regional delicacies and bolder experimentation.
Indian chefs living around the world are feeding this growing movement, with menus that celebrate their family heritage, while bringing new dimensions to traditional cooking techniques and recipes.
CNN spoke to five of these culinary ambassadors about the dishes that — for them — capture the delicious diversity of India.
Chef Jessi Singh: Buffalo milk kebab, Punjab
When it comes to making a kebab, milk curd probably isn't the first ingredient that springs to mind. But for Punjab-born chef and restaurateur, Jessi Singh, this is the ultimate taste of home.
Crispy on the outside, with a soft, creamy center, kebabs made with curd, yogurt or paneer cheese are a popular appetizer in restaurants across northern India.
Born in a farming village outside of Punjab's capital, Chandigarh, Singh encountered the dish — and its key ingredients — at source.
"Before I even turned 10, I knew how to milk the buffaloes," he says.
Singh takes charge of fermenting the milk for the kebabs in his restaurants in Australia, including Melbourne's Daughter in Law and Don't Tell Aunty in Sydney. Served with an orchid and bright pink beetroot sauce, his kebabs might not look like the meals he ate as a child, but the vivid colors represent Singh's Punjab heritage in other ways.
"Back home, color doesn't associate with a gender, or a certain people, or a class," he says. "Color belongs to everyone. You will see men wearing pink turbans, a red shirt … We are a very, very colorful culture. So that's what I put in my food."
Chef Garima Arora: Millet roti, Telangana
Not content with her own trailblazing accolades, Arora is taking another approach to "rewrite this narrative around Indian cooking."
"There was a big difference between the way urban Telangana eats to the rural Telangana to the tribal Telangana," Arora says. "The idea was to take that and show it to the world."
Arora is giving millet a fine-dining update as a roti tartlet, filled with creamy, chilled crab and fresh coconut. She says her "cold curry" gives the "sensation of eating something fresh, cool, earthy — but in one bite."
Chef Deepanker Khosla: Mutton biryani, Uttar Pradesh
"My dad has this beautiful kitchen garden," Khosla says, "So harvesting our own produce, eating fresh, sustainable … this is tradition."
A hydroponic system on the restaurant terrace recycles rainwater to grow plants and tilapia fish, while all waste from the kitchen is recycled back into fish food and compost.
The restaurant farm supplies almost all the produce for Khosla's "neo-Indian" menu, a modern, high-end take on centuries-old Indian dishes.
It made its way into the cuisine of almost every region, each suffusing the dish with its own flavors and techniques.
Khosla makes a version known as Awadhi biryani — a beloved dish back home in Uttar Pradesh.
Lightly spiced pieces of mutton and rice are layered into a pot, sealed with dough, and slowly steamed for hours, in "dum pukht" style.
"Dum pukht means slow breathing, so you let the food breathe in its own juices," Khosla says.
With an ever-evolving menu that adapts to the seasonal produce that can be grown on the farm, Khosla is excited to spotlight authentic, regional recipes.
What we know about Indian cuisine is "not even the tip of the iceberg," he says. "India has 22 distinct cuisines with more than 5,000 different dishes … that is what I take pride in."
Chef Palash Mitra: Fish curry, West Bengal
Fish is a staple in West Bengal's cuisine largely because of geography. Crisscrossed by rivers that flow into the Bay of Bengal, the east Indian state boasts a huge variety of fish. And the importance of fish carries into ritual life too.
"Whether it's a funeral or if it's a marriage, fish is an integral part of it," says Palash Mitra, a chef born in West Bengal's capital, Kolkata. "Fish is the symbol of a new life, the end of life. It's entwined."
As culinary director of South Asian cuisine for Hong Kong's Black Sheep restaurant group, Palash supervises four restaurants, which offer fish dishes that span the Indian subcontinent.
"The tandoori cobia … or the salmon … these are really, really popular dishes," he says.
But Bengali fish curry is the dish that's "very close to my heart," he says. Mitra cooks his mother's recipe: chunks of rui, a South Asian carp, slowly simmered in a light broth, enriched with spices, potatoes, cauliflower and tomatoes, and served with rice. He plans to put it on the menu at his restaurant, Rajasthan Rifles on Hong Kong's Victoria Peak, this summer.
Chef Kuldeep Negi: Tandoori prawns, Delhi
As a child, Negi's mother brought him to the market, and taught him how to select and blend the spices.
"She is very particular about choosing the spices because India is a country of different seasons. So each season has different spices," says Negi. "How to use them, when to add into the dish, how long you're going to cook (them) — that's very important."
The art of blending spices is still an important part of Negi's cooking today. Though you're more likely to find chicken or lamb grilling in the tandoors of landlocked Delhi, Negi wants to make the most of the seafood available in Southeast Asia.
For his signature dish, tandoori prawns, he brings out the succulent, smoky flavors of the jumbo prawns with his unique spice mix: saffron, turmeric and red chili powder, blended with rose petal, bleached cardamom and green cardamom.
"When you go to bite that, you will feel it, the freshness of the powders," he says. "It's all about the spices."
Collective action to combat food waste
THE LATEST Social Weather Stations survey conducted in November 2020 revealed a national hunger rate of 16%, equivalent to around 4 million families — an improvement from the 7.6 million families reported in the September 2020 survey. While this result shows that loosening quarantine restrictions and reopening the economy may have ameliorated hunger, it underscores the challenge we still face.
That there are families that experience hunger while tons of food go to waste each day is a painful irony that we must address. As I mentioned in my previous column, we have a significant food waste problem as we waste more than 900,000 metric tons of rice per year. According to the World Wildlife Fund–Philippines, an estimated 2,175 tons of food scraps in Metro Manila alone are thrown in the garbage every day. When the poorest of the poor are scrounging for recoverable food scraps in garbage bins, this level of waste is criminal.
(An example of food scraps being "recycled" and eaten — and, in some cases, sold — is pagpag. Pagpag is the term used for leftover food from restaurants scavenged from garbage sites and dumps. Pagpag literally means "to shake off," and refers to the act of shaking off dirt from edible portions of restaurant leftovers. These are either eaten immediately after the scraps are found in the trash, or cooked in different ways after they are collected. The phenomena has been documented by news programs and clips are available on YouTube for those who wish to learn more.)
Food waste is inextricably tied to the problem of hunger; imagine the amount of food wasted that could have otherwise been used to feed hungry Filipinos. It is a problem we cannot and should not ignore — which is why efforts are being made to ensure that we minimize the amount of food waste that we produce.
One of the ways we are aiming to address the problem of food waste is by dovetailing the efforts of the private sector and that of the government; this is where a movement like Pilipinas Kontra Gutom (Philippines Against Hunger) comes in.
Pilipinas Kontra Gutom is a multi-sectoral initiative that addresses hunger on different fronts. We believe that a concerted and programmatic approach from the government, academe, non-profit groups, and corporations can help millions of hungry Filipinos and set the Philippines toward the path of food security.
Food waste is one of the initiative's strategic pillars. Our country has a huge food surplus that can be repurposed for community kitchens, crisis assistance, or even composting.
MAKING STRIDES
Pilipinas Kontra Gutom — which invited multinational and local companies, as well as non-governmental organizations, to its private sector kick-off earlier this month — has formalized partnerships with more than 30 different groups, including NGOs, large corporations, and tech and media companies.
Seeing the existing efforts presented during the event made me feel confident about our direction and purpose. The Philippine Business for Social Progress (PBSP), the largest business-led social development foundation composed of more than 250 member companies, showed us their own initiative, The Hunger Project. This effort, done in partnership with the Ateneo de Manila University and De La Salle University, provides us with a view of the private sector's capabilities with regard to an undertaking of this nature.
Crucial to PBSP's The Hunger Project are its aims to consolidate all private sector initiatives, monitor the results and outcomes of multi-sectoral programs, and ensure the sustainability of the advocacy against hunger.
Another one of our partners, Rise Against Hunger, is making strides in answering the food waste problem. The global hunger relief organization is focused on food banking by tapping manufacturers, restaurants, hotels, farms, and even individual consumers to donate their food surplus to food banks. The excess supply, after quality testing, then goes to Rise Against Hunger's food assistance partners such as schools, orphanages, and emergency shelters.
Rise Against Hunger accepts food donations in the form of canned or processed food that are near their expiration date, discontinued products, seasonal items, and production overruns, among many others. The structure that they have in place has already resulted in a social enterprise project with the Good Food Grocer, which operates a free grocery in poverty-stricken barangays, while also providing vital nutritional requirements to children, mothers, and senior citizens who are most in need.
JOINING HANDS
In the next few weeks, we will be holding a series of consultations bringing together the private sector and concerned government agencies so we may coordinate our efforts to address the problem of food waste, to provide support for farmers, and ultimately, to address hunger. We are eager to see what our current team and potential partners can do. We are all here and ready to work: lahat kasali, lahat kasalo.
For more information on Pilipinas Kontra Gutom and how companies or organizations can support its efforts, send an e-mail to [email protected]cd.com.
Cabinet Secretary Karlo Nograles is the Chairperson of the Inter-Agency Task Force on Zero Hunger. Prior to his appointment to the cabinet in November 2018, the former House Appropriations Chair served three consecutive terms in the House of Representatives representing the first district of Davao City.